OH MY!!! Have you heard of all the weddings that have been cancelled or suffered great strife due to the Federal Government Shutdown?!?!?!
Imagine your wedding planning is about to come to a close, everything seems to be falling into place just nicely. It is the week of your wedding, and as you arrive to the venue for wedding rehearsal, you are met with chains on the door. The venue is closed due to the "Federal Government Shutdown".
Really, isn't that heartbreaking?! If your wedding venue is slated to be at a federal government building on or after October 1, 2013, as of the typing of this blog post, your wedding will not occur at that building.
The shutting down of the federal government has affected us in more ways than one! The federal government is the nation's largest employer with approximately 800,000 people according to CNN.com, who are furloughed, staying home without pay due to the shutdown. Indirectly, millions of us have felt the impact. Of those 800,000 employees directly affected, more than likely have families and dependents that depend on incoming household funds to run their households. Parks, museums, and federal buildings surrounding area restaurants and hotels will see a decline in revenue, due to the shutdown. Also, let's not forget that some of those employees currently out of work can not operate as a venue coordinator, staff member at your venue if you have a wedding at a federal building!
According to the Washington Post, there were as many as 24 weddings scheduled in the month of October this year at the ever so popular Jefferson Memorial located in Washington D.C.
24 couples received unfortunate notice that their wedding was not going to take place at their venue.
24 couples families and friends, perhaps paid money for flights, hotels, preparations for a wedding that may now not take place.
24 couples will now need to find an alternative venue for their wedding.
Brides and Grooms, how can you learn from the Federal Government Shutdown, and incorporate valuable strategies into your own wedding planning?
ARE YOU READY FOR THESE KEYS OF ADVICE???
Here Goes:
1. Relying on your trusted wedding planner coordinator would include keys of advice 2 & 3, but your wedding planner coordinator would have thought of a plan B venue much sooner than you receiving notice from your federal building venue that your wedding will not be taking place until further notice. A really good wedding planner coordinator also has a back up list of vendors they can contact in the event one of your chosen vendors is a "no show". These are are just some of the many benefits of hiring a wedding planner coordinator.
For additional information on the role of a wedding planner coordinator, click here to access a previous blog post on this topic.
2. This is an excellent tip we review in our our free e-book
(15 Wedding Planning Insider Tips)
you can obtain on our website,
www.wedbecomesher.com.
Always pay in credit card and not cash when paying for your venues and vendors. If your venue will not be available because they are no longer in business, or if your venue just so happens to be a federal government building and will not be open on your wedding day due to circumstances beyond your control, you would be somewhat protected by contacting your credit card company. When you inform the credit card company of this type of disaster, you may recoup your money back. Even if you have already paid your credit card balance in full, and you are faced in a situation where your vendor or venue did not deliver, you can file a claim with your credit card company. Our friends at Credit Card Insider, a comprehensive portal for consumer and business credit card resources informed us that under these circumstances, with the Fair Credit Billing Act, a consumer can file a claim to recoup their money back. When you file a claim, often times the money is immediately credited back to you. The caveat here is that the credit card company will do an investigation. If the credit card company finds that your vendor/venue is at fault, and did not provide you with a product or service then you keep the credited amount. If they do not find fault with the vendor or venue, they will take back the amount credited to you from the time you filed the claim.
3. If you do not know about wedding insurance, you better know now. We highly recommend you obtain wedding insurance as an added protection tool throughout your wedding engagement/planning period. Wedding insurance does more than what a credit card claim can do in the event you need assistance against unforeseen circumstances. Wedding insurance not only protects you against "no show" vendors, and closed venues, but also against inclement weather(hurricane/tornado forces a cancelled wedding), or it can protect you or your spouse to be in the event one of you falls ill. Do you think you will get your money back if you or your spouse to be falls ill days before the wedding; and you've paid in full without wedding insurance? Good luck in obtaining your money back; you may or may not be able to recoup it. Your wedding planner coordinator should be able to provide you with some resources of obtaining wedding insurance. Policies are actually affordable, and you want to make sure you obtain wedding insurance from someone who has a license to sell you insurance.
We hope that you found this information helpful.
In addition to these keys of advice we forgot one....
You can always have Stephen Colbert(he is ordained!) to officiate your wedding on national television if your federal government building is no longer available due to the shutdown!
Stephen Colbert, political satirist television host, officiated a real wedding on his show last week to a couple who planned to get married at the Jefferson Memorial located in Washington D.C.
The couple could not wed at the Jefferson Memorial due to the shutdown, but married on
The Colbert Report
show, hosted by Stephen Colbert.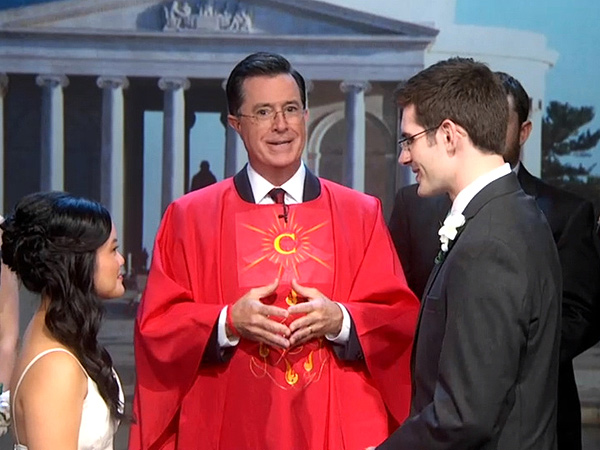 photo source credit: PEOPLE Magazine
http://www.people.com/people/article/0,,20741828,00.html
Resources
1) Credit Card Insider
www.creditcardinsider.com
Credit Card Insider is a plethora of information for your planning needs for ensuring you put measures in place for establishing sound financial decisions and resources for establishing great credit. They just released a neat wedding budget calculator that helps breakdown the different components of your wedding in the appropriate dollar amounts.
Try it now by accessing their calculator here: Wedding Budget Calculator
2) Wedding Insurance Agent
Ms. Kamarah S. Angus
www.kalydaskope.com
info@kalydaskope.com
Kalydaskope i

s a full-service wedding and special events planning firm that provides wedding insurance. Kamarah Angus is a licensed wedding insurance agent, and owner of Kalydaskope. Her firm will be able to provide you the proper coverage for your wedding day needs.
3) CNN.com
http://www.cnn.com/2013/09/30/politics/shutdown-showdown/index.html
4 ) Washington Post
http://www.washingtonpost.com/local/government-shutdown-threatens-romantic-wedding-by-the-jefferson-memorial/2013/10/01/1310011c-2a15-11e3-8ade-a1f23cda135e_story.html
5) PEOPLE Magazine
http://www.people.com/people/article/0,,20741828,00.html
6) WBH E-Book
15 Wedding Planning Insider Tips; Keys of Advice You Need To Know Before You Start Planning Your Wedding
Are you or do you know anyone affected by the Federal Government Shutdown as it relates to your wedding planning? If so, we would love to hear your experience at info@wedbecomesher.com
Again, we hope that you found these keys of advice helpful. If you believe others may benefit from this information, we encourage you to share this info with them. Until next time...
For more information about our Wedding Day of Management company, please visit our website at
www.wedbecomesher.com
Ciao for now,
N.Uche