So what did you think of Pantone's 2013 Color of the Year, Emerald???
Did you see it in weddings this year?
As 2013 comes to a close in a little over a month, what color do you think Pantone will reveal next to be part of the 2014 year wedding trends? For those that do not know, Pantone Inc., a world renowned company is THE authoritative leader and provider on color systems. Industries including interior design, designers, architects, and wedding professionals look to Pantone for color palates and definitions. If you check out your local home improvement store, you will see a Pantone color swatch area in or around the paint section of the store.
How does this relate to wedding design?
Year 2014 Brides who are trendy along with their stylish wedding designers, look to design gurus such as Pantone, to utilize color as a tool to assist in their wedding design details. Color is a great way to help interpret a glamorous event, such as a wedding.
Pantone will reveal the highly anticipated
2014 Color of the Year on December 5, 2013.
I want to know your predictions!
Although I love colors "Tiffany Blue", turquoise, and mint (Two out of these 3 colors are Wed Becomes Her Wedding Planning & Coordination Co. colors, can you guess which two?), I personally do not think a color from that family will be the color for 2014, since we saw the color "Aqua Sky" and "Blue Turquoise" as the 2003 and 2009 (respectively) Pantone color of the year.
Based on this year's Bridal Fashion Week, the week of October 14 held in New York city, we saw lots of dresses that had various shades of soft hues. I am going to predict the 2014 color of the year as a blush pink or a color in the pink family. If I were to guess another color, I would say a color from the gray or brown family like Paloma. Now let's watch on December 5, I will probably be wrong, ha!
Vera Wang Spring 2014 Bridal Collection
as seen at Bridal Fashion Week 2013
My predictions go against what others such as major style magazines have predicted what the 2014 Pantone Color of the year will be, which many have predicted the deep "Dazzling Blue". I wonder if they have inside information???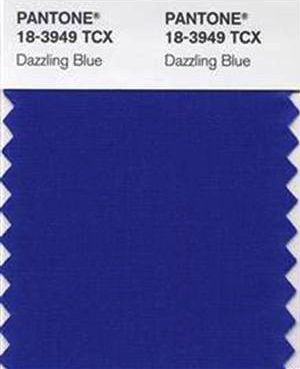 Until Dec 5, we can still construct our Pinterest boards, and embrace Emerald for the little time we have left with it. However, it's time for a fresh color palate for a jump on year 2014 inspirations.
What are your 2014 Pantone Color of the Year projections, or popular color palates that may appear in year 2014?
Did you or anyone you know incorporate the 2013 Pantone Color of the Year Emerald in their wedding design? If so, please share in our comments section!
You can also check out our interpretation of Emerald via our Pinterest board here
www.pinterest.com/wedbecomesher
For more information about our Wedding Day of Management company, please visit our website at
www.wedbecomesher.com
Season's Greetings!
N.Uche